We've seen 360-degree videos on the web, Facebook, Twitter, and YouTube. They're super engaging, fun, and shareable. So we got our hands on the Nikon Key Mission 360-degree camera! Anxious to try it out, we turned to our neighbor EFS Personal Training to have some fun with us. In a matter of an hour, we created this cool 360-degree video tour of their facility. Take a look!
360-degree videos provide a unique opportunity to market and think differently with video. As more distribution channels begin to support 360-degree video including Facebook, Twitter, and of course YouTube there is no excuse for you to not get on board. Contact us if you're interested or need help.
How To Watch a 360-Degree Video
Using a smartphone? Hold your phone up straight in front of you to start. Then pan & rotate to watch from different angles. On your computer? Use your mouse to drag or use the on-screen control in the top left. If you already own a VR headset no explanation is needed – you're a pro!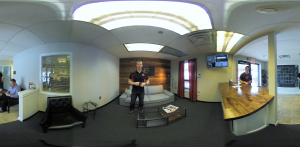 If your video looks like this when it plays something is wrong. Chances are you're using the Safari browser on a Mac, try Google Chrome. On your mobile device be sure you have the YouTube app installed.
Try directly visiting YouTube: https://www.youtube.com/watch?v=fL3v2V5na6g