Making Web Video Work
Web video is the fastest growing feature on the internet today. Adding video to your website can not only add a unique touch to your business's website and brand, it can also improve conversions and sales. Videos bring more traffic to your business's website (increase click through rate) along with convincing visitors to stay on the website longer. This article will dive into all aspects of web video, including how video improves a website, SEO for web video, web video technologies, and even a case study on conversions. One thing is for certain, web video works!
There are many different ways people use videos. Some examples include: entertainment, information, viral, branding, marketing, and personal. The most important video types relating to business are informational and branding/marketing videos. These kinds of videos can do things such as introduce your company and brand, engage the visitor, and help answer questions the visitor may have about your company. People who are searching for answers aren't necessarily looking for a just a website. They are looking for a solution, and they want to personally connect with someone or something. Video can help connect with those visitors and find the solution they are looking for, which should be your product or service.
Web video is cited by many experts to be the hottest trend on the internet for the next few years. Recent numbers show proof of how it has been growing. According to Nielsen Online, over 137 million people watched web videos in December of 2009. That's over a third of our population in the US, and the numbers are still growing. For instance, in April 2010, 178 million US internet users watched web videos, which is 83.5% of all the internet users in the United States. Even the length of each video that was watched just about doubled from previous years. Trends like these just prove the significance video has on the internet world. David Kenny of Akamai Technologies, Inc. predicts that by 2014, it will take 2 years to watch every second of video that will cross global IP networks. These viewers aren't just college students and kids, either. When you take a closer look at income levels and education levels of the viewers, it reveals a hopeful indicator. The biggest demographic of viewers are well educated, affluent adults.
The reason video has been trending upwards so strongly is because it is much more accessible and easier for people to implement it on their websites. Videos can be hosted on websites such as YouTube and Vimeo, and bandwidth prices are far less expensive they have been in the past. With the commonality of high speed internet, videos are able to stream quickly and easily. This has facilitated what is called the "Web Video Revolution", and is set to continue on throughout the near future and beyond. Very significant improvements in encoding and embedding technologies have made video content easy and available to integrate into the body of an email. This is a great way to get more traffic to your business's website.
YouTube was a revelation for web video in general, and is now the second largest search engine behind Google. It gave users a way to post video to the internet for free, and it also provided a new way to get traffic to a website.  In 2011, experts predict that YouTube will only become more central to the online video ecosystem.  Advertisers will start to use UGC, or user-generated content, websites like YouTube in place of traditional advertising banners, because these banners and content networks are becoming less reliable. Sponsored YouTube videos will also become more important and popular because YouTube is pushing these sponsored links into new locations of search volume. YouTube is also a very simple way to post a video one time for all different video devices, including computers, smart phones, Google and Apple TV, and the new flat screen TV's that can receive a direct line to the internet. Over 35 hours of video is uploaded to YouTube every minute! That's almost doubled since 2009, and will only continue to grow. Also, only about 14% of users actually post video online, so that can be good for business if you can post the right videos that catch the customers' eye. Using overlays in your video can be better for your click through rates than traditional banner ads, so take advantage of this and put a catchy call to action in your video. You will be surprised at the results. You should also cross promote your videos within your other videos in your library or YouTube channel. This is basically doing a quick mention of another video topic you have and linking to it in the current video. This will drive visitors to all of the content you offer, increasing your chances of a sale or conversion.
Not only does web video provide the most compelling and engaging user experience possible, its success continues to be driven by emerging technologies including production equipment, video distribution and sharing sites, search engines, and portable devices with no end in sight. Web video technology has improved vastly since its beginning. Web video hosting used to be very expensive, where now it is very affordable. There are also content sites out there (YouTube) which host videos for you. As mentioned before, internet speeds and new encoding have also improved the way we get and the way we see video.
Just as web video hosting and technology has improved, so has the equipment. Cameras are able to capture better images, along with much cheaper option that really work great. For around $150 you can buy a flipcam. Flipcams work really well for an inexpensive, do-it-yourself option for video interviews and testimonials. These types of videos are excellent to help build a reputation, accountability, and credibility. Also, the ease of using a Flipcam enables users to shoot and post videos quickly, allowing them to take advantage of hot new trends before the market is saturated.
If you decide to shoot your own video using a flipcam or another type of camera, you will want to edit it with video software. Important Note*A poorly shot and edited video can actually do more harm to your website than good. By choosing good software to use, you can make your video, interview, or testimonial look great and help convert visitors to customers. Some of this video software includes CyberLink Power Director, Corel Video Studio, Adobe Premier Elements, and Roxio Creator. There is more software out there, but these are some of the higher rated applications. Camtasia is also another option for creating a useful video. With Camtasia you can capture your screen while navigating through demonstrations, presentations on PowerPoint, and other similar programs.
Once your video is shot and edited, it's time to get people to watch it. With the recent technological breakthrough of the different social media platforms, information is easier to share than ever before. You can create a Facebook "Fan Page" for your business. Upload the video to your Facebook page or post it to your Facebook wall and all of your friends and followers will be able to see it. Twitter is another great social media tool to spread videos. Once you build a following, it makes it very easy to reach those followers and show them your videos.
Technology like Flipcams and editing software can enable small business to create web videos in house. Before making this decision for your business, be sure to take these few points into consideration. First, doing video production and editing can be difficult and time consuming, and may not be the most efficient way to go. By hiring a professional web video company, you can get the expertise of actors, top quality equipment and editing, and a great finished product you can be proud of. Web video companies usually offer many different services, including professional actors/actresses, video spokespeople, and custom editing. Depending on the nature of the company, their prices can vary greatly. Be sure get testimonials and referrals from other customers who have purchased products or services to see if a web video company is right for you. Also, there are many things that go into making a web video look professional that people don't realize. Lighting must be correct, camera techniques such as panning must be used right, and tough questions must be answered in the pre-production phase (such as which format should be used for the video). Web video companies also can offer assistance in one of the most important aspects of the video itself; the writing and creation of the script. I know it has been mentioned before, but keep in mind that a bad video can actually hurt results rather than help them.
Web video companies can give you a great product for your money, and the can also give you great advice on how to make that product work best for you online. A video does nothing if no one knows it's there to watch. Just like websites, videos fall subject to search engine optimization. SEO is how search engines search and find your video, read to see its relevance to a particular search term, and display it in the search results. These techniques can get very complicated, but there are many basic things that you or your web video company can do to get the most out of your video(s).
The 2 main options on getting your video out on the internet are "hosted" and "posted". Hosted video is you actually doing the hosting yourself (which I mentioned before is much less expensive than it used to be). The benefits to hosting video yourself are the control aspect (on-page text, user-experience, action/conversions, brand experience), generating traffic directly, better measurement capabilities, and can strengthen your overall SEO more efficiently. Posting, on the other hand, can give you more of a viral source and enable you to reach more people at a faster rate. You can take advantage of the video sharing sites, high page rank and authority, and show up multiple times in SERPS. It is optimal to utilize both of these for your videos, because both will help you website in different ways.
When you measure video statistics, be sure to look at when your watchers are coming from (referring sites, search engines, etc.) Check and see if your video appear in searches, and also see if anyone is linking or posting your videos on their sites. Be sure to use embedded players and not pop-ups, because pop-ups may cause the user problems if they have a blocker on. Follow general principles of SEO for headings, tags, and titles (meaning use keywords in all of them towards the beginning). *see below screenshot*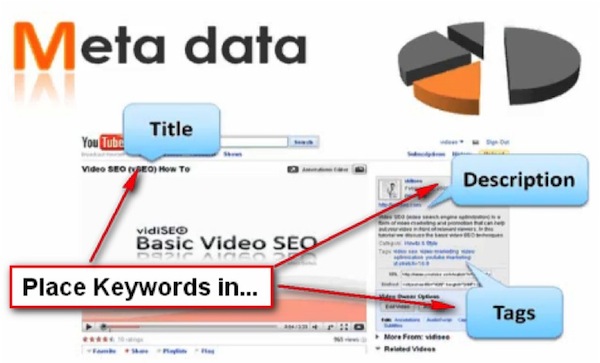 Let's take a look at a case study. In this case study, UpDown.com used an A/B split test. An A/B split test is when you take a page, make a change or changes to the page, and test the results of those changes against the original page. By running both pages, you are able to gauge which page converts better. UpDpwn.com took their home page and tested it against the same page with an added video.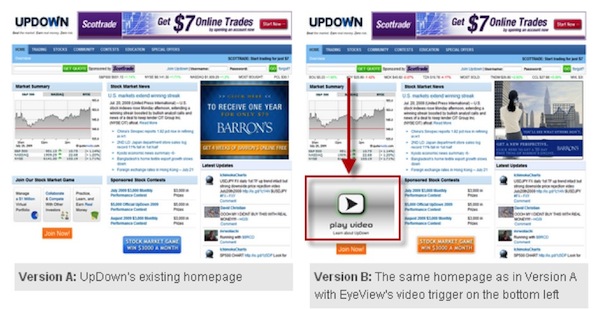 The results to this test were that the page with the video had significantly better results than the page without the video. The video trigger was increasing conversions by over 30% compared to the page without the video. Similar case studies will so the same type of results. Video improves conversions. The next step for this page would be to change the placement, title, etc. of this video to see what gets the most attention.
The first and most important thing to look at before you even make a web video is to understand the reason behind the video. If you are using the video to convert or to bring traffic to your website, then to need to look at the most important aspect of SEO, which are the keywords. One big mistake people make when shooting web videos is that they try and shoot one or two videos with all their keywords stuffed into them. It is much more effective to shoot many videos, each going after a few relevant keywords, than shooting just a few videos with all the keywords in those two videos. A library of videos will be much more likely to catch people's attention and get them to your website. After you find the right keyword to make your videos around, you should be prepared to optimize the video. SEO and keyword focus for videos is different than SEO and keyword focus for Google. People use different keyword searches when searching on sites like YouTube than they do on Google. Customers are even adding the word "video" to their search queries.
Google can transcribe video now, and is very friendly to websites that use video, giving them an advantage in searches. In 2011, it is predicted that rapidly advancing technology, such as YouTube's auto-captioning system, and new tools for content creators, such as video sitemaps, are helping search engines find and rank videos better than ever before. Be sure to make the content relevant to your keyword(s), to use the keywords in the dialog, and to use the keyword in a very catchy title. Using closed captions can help Google understand your video better, and comply with the disabilities act for the internet. Video is just like copywriting; bad copy or video can make your website look cheap and scammy, and hurt in conversions.  Remember, video can increase your chances of higher rankings than site without video by 50%. Google tends to rank sites with video better than sites without! Besides putting your keywords in the content of your video, you should also optimize the meta data. This would consist of the title, the tags, and the description. Also, don't forget about the caption too.
Another huge part of all SEO is link building. Be sure to promote your videos and make the content outstanding so other blogs and websites will post and link to them. These links act like "juice" or "votes" for your video, and help your video rank in searches.
There are many variables that go into a successful video and video campaign. If the right steps are taken, though, it can provide you with an excellent way to increase traffic, conversions, and customers. In summary, make sure that your content is always great and useful. Take advantage of hiring a web video company to ensure that the editing and shooting is done properly. Utilize all user generated content websites for video like YouTube, and optimize your video so it reaches the top of searches. Web video is fastest growing way to get visitors to come to your website. People want a personal connection when searching, and video gives them just that.